Smile Design & The Smile Makeover

When a more dramatic change is required, we offer a custom Smile Design service and numerous treatment options for achieving a smile makeover, this might include whitening, veneers, crowns, bridgework, implants etc…..

ALL OF THE BEFORE & AFTER PHOTOGRAPHS IN THE SITE ARE ACTUAL CASES TREATED BY THE 3 PARTNERS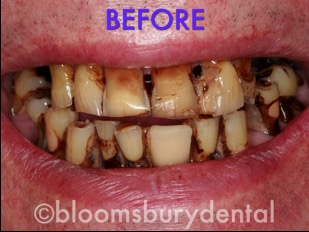 HOW WE ACHIEVE SMILE MAKEOVERS, PREDICTABLY AND SUCCESFULLY

We offer a full smile design service, including computer imaging of the proposed smile, 3D prototyping by a skilled technician, and the use of the best materials to achieve the new smile that you have been looking for.


STAGE 1: THE CONSULTATION PROCESS
At the consultation process the dentist will discuss what it is that you want to change with your smile. The dentist will analyse the smile and discuss all the options available to you, which might include orthodontics, tooth whitening, composite bonding, and ceramic veneers. Numerous photographs of your smile and teeth are typically taken at this appointment. A full breakdown of treatment fees will of course be given.
STAGE 2: THE COMPUTER SIMULATION
So that you can envisage what you will look like with your new smile the dentist may decide to produce a computer simulation. This digital simulation utilises a full face view of you smiling, the dentist can then simulate changes in shape, size, position, and colour of the teeth. The computer imaging simulation is an excellent way of being able to visualise options for your new smile.


STAGE 3: THE DIAGNOSTIC WAXUP


The dentist will take moulds of the teeth which are sent to a dental laboratory. The technician will produce a plaster mould of your teeth and will add was to the model to produce an accurate 3D model of your proposed new smile.



STAGE 4: THE MOCKUP/ PROVISIONAL PHASE
From the Diagnostic Waxup the dentist then has the option to produce a mockup within your own mouth (particularly in the case of no-preparation veneers). The 3D model is also used to construct your provisional temporary restorations. This provisional stage allows you to trial your smile and make sure you are happy with the new shape, length, position etc.




STAGE 5: CEMENTATION AND REVIEW
The restorations will be tried in and checked for a perfect fit and to confirm the aesthetics. After cementation the dentist will typically arrange a review appointment a week or so later to make any fine adjustments and to confirm that all is well.